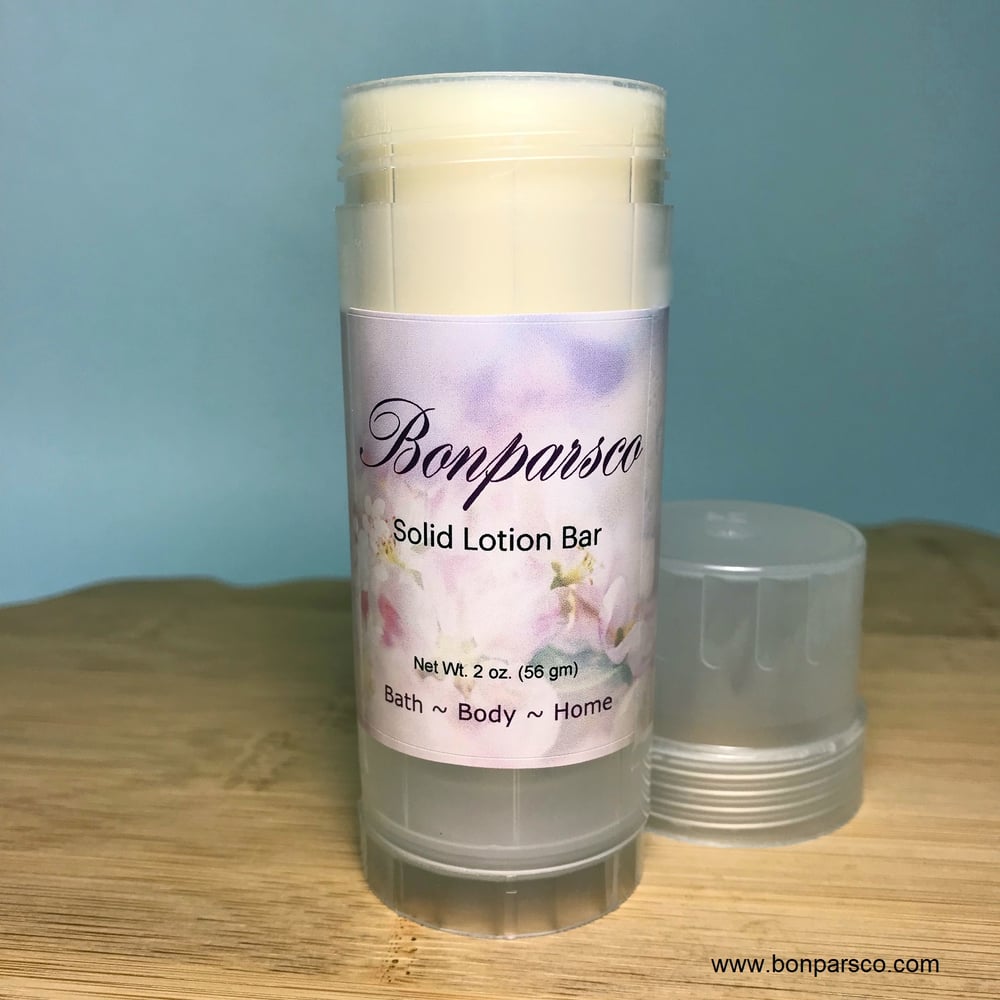 A luxurious body balm in a convenient twist-up tube. It's perfect to take anywhere! Just throw it in your purse or bag and go! The lotion bar is smooth & silky and a breeze to apply. Just twist the bottom of the tube and apply to dry skin. No mess, no fuss!
(1) 2 oz. tube for $7.50
or
(2) Pick 2 for $14.00 - list your 2 scent choices in the 'Notes or instructions' section on the checkout page. You can choose the same scent or 2 different scents.
Scent choices:
NEW ~ Champagne Kisses
NEW ~ Cherry Almond
NEW ~ Clean Laundry
NEW ~ Fresh Coffee
NEW ~ Ginger Lime
NEW ~ Grape Soda
NEW ~ Pink Grapefruit
NEW ~ Lavender & Sage
NEW ~ French Lavender & Honey - Sold Out!
~ Blood Orange
~ Bubble Gum
~ Cinnamon Roll
~ Volcano - a blend of tropical fruits, sugared oranges, lemons and limes, redolent with lightly exotic mountains greens
~ Banana
~ Fruit Loops
~ Orange Cream Vanilla
~ Blueberry
~ Watermelon
~ Lemon & Lavender
~ Lilacs in Bloom
~ Fresh Cut Roses
~ Beneath the Stars - a blend of grape, peach and plum with sparkling citrus, rose and musk.
~ Honey Almond
~ Indonesian Teakwood - blends of falling leaves, fresh citrus, Indonesian teakwood, patchouli and amber
~ Pink Lemonade
~ Sweet Peony
~ Butt Naked - a blend of apple, pear, melon, vanilla and musk.
~ Fresh Peaches
~ Mango & Papaya
~ Gardenia
~ Spearmint & Eucalyptus
~ Cucumbers & Melons
~ Strawberry
~ White Tea & Ginger
~ Honeysuckle
~ Lavender & Mint - notes of pepper, crushed mint leaves and bergamot with notes of rose, lavender, vetiver, sandalwood and patchouli.
~ Coconut, Lime & Verbena
~ Sweet Pea flowers
~ Oatmeal, Milk and Honey
~ Sandalwood Patchouli
~ Vanilla Cake - vanilla cake with candied lemon zest and blueberries
~ Rosemary & Mint
~ Blue Hawaii - tropical fruits, sugared oranges, lemons and limes, with lightly exotic mountains greens. - SOLD OUT
~ Barber Shoppe - Bergamot and fresh basil leaf are complemented by earthy notes of Oakmoss and White Patchouli
~ Burmese Wood - Exotic, warm blend of cedar, patchouli, amber and musk.
~ Cool Water - A blend of marine and green notes with cooling mint contrasted with rich cedarwood and musk. A duplicate of Cool Water For Men by Davidoff
~ Amber Noir - mandarin, jasmine, and rich amber with undertones of sandalwood and musk.
~ Sandalwood Patchouli - sandalwood with the sweetness of balsamic richness and notes of deep patchouli
~ Apple Balsam Pine - A unique blend of juicy apple, cassis, jasmine and Siberian fir
~ Alpine Frost - orchid and Ylang-Ylang on top of cypress trees, frosted woods, Oakmoss, and fresh spices
~ Abalone & Sea - A fresh ocean scent with notes of daylily, sea spray, watery florals and musk.
~ Honey Almond
~ Chestnuts & Brown Sugar
~ Unscented - the natural fragrance of Mango Butter and Safflower Oil
MAKE YOUR SELECTION BY USING THE DROP DOWN ARROW
Ingredients: Argan Oil, Safflower Oil, Apricot Kernel Oil, Sunflower Oil, Mango Butter, Shea Butter, Kokum Butter, Shorea Butter, Cocoa Butter, Beeswax, Arrowroot Powder, Fragrance, Vitamin E
Directions:
Apply to dry skin as needed. Not intended for the face. Avoid contact with eyes and mouth.
Store in a cool, dry place.