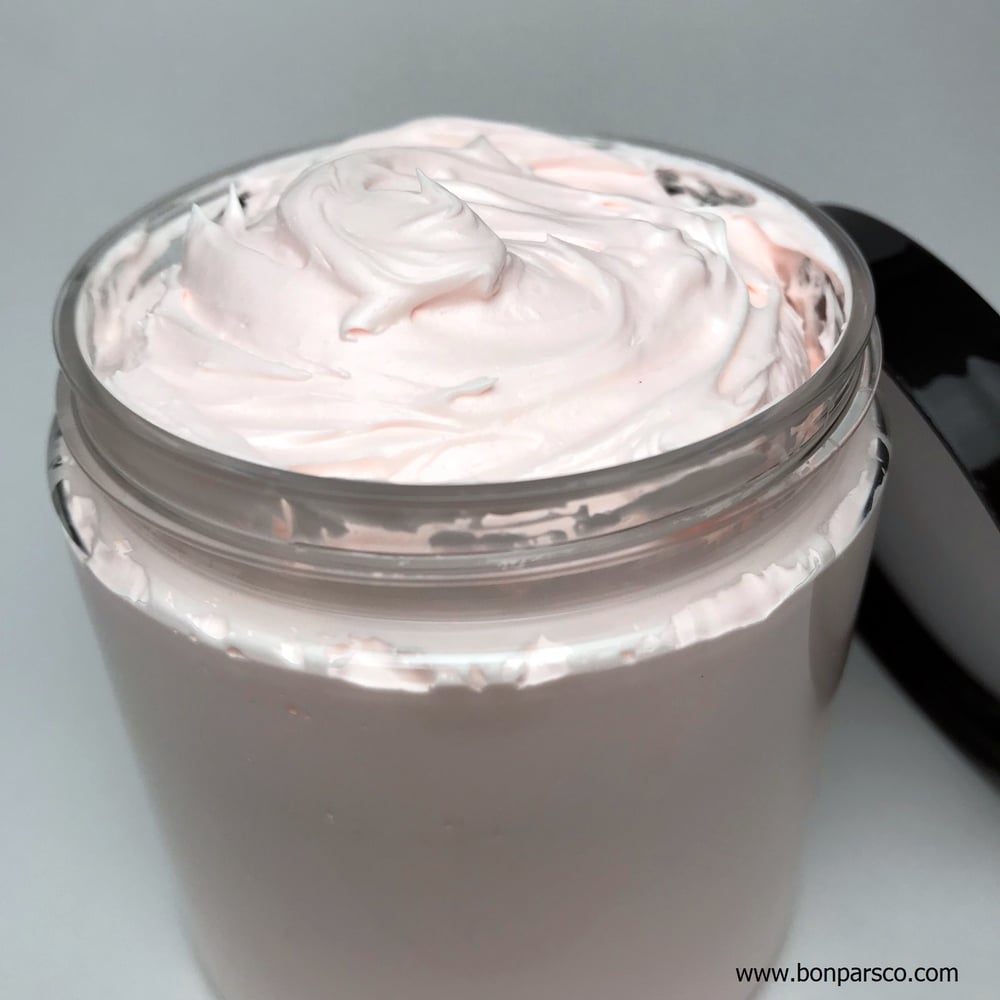 Bathe in the delight with our creamy whipped soap! It's loaded with skin-loving ingredients like Shea Butter and Vitamin E. Use this soap as a bath soap or a luxurious shaving soap. Enrich your skin!
(1) 3.50 oz. for $8.00
Scent choices:
Hot Cocoa LE (as shown) - whipped soap layered to represent hot chocolate complete with 'whipped topping' and sprinkled with real cocoa powder. - SOLD OUT!
Oatmeal, Milk, & Honey LE (as shown) - whipped soap layered in white and light orange topped with a sprinkle of shredded oatmeal. - SOLD OUT!
~ Love Spell - A sweet blend of orange, peach, cherry blossom and white jasmine. A duplicate of Love Spell by Victoria's Secret
~ Champagne Kisses
~ Cherry Almond
~ Clean Linens
~ Fresh Coffee
~ Ginger Lime
~ Grape Soda
~ Pink Grapefruit
~ Lavender & Sage
~ Warm Apple Cider - SOLD OUT!
~ Blood Orange - notes of tangerine leaf, Italian bergamot, tangelo, and sheer floral petals.
~ Bubble Gum
~ Cinnamon Roll
~ Floral Coconut
~ Cotton Candy
~ Pistachio Hot Cocoa
~ Pumpkin Crunch
~ Volcano - a blend of tropical fruits, sugared oranges, lemons and limes, redolent with lightly exotic mountains greens
~ Tropical Ocean - a tropical blend of Passionfruit, Sugar Citrus, Jasmine and Exotic Florals
~ Banana
~ Orange Cream Vanilla
~ Blueberry
~ Watermelon
~ Lemon & Lavender
~ Lilacs in Bloom
~ Fresh Cut Roses
~ Beneath the Stars - a blend of grape, peach and plum with sparkling citrus, rose and musk.
~ Honey Almond
~ Indonesian Teakwood - blends of falling leaves, fresh citrus, Indonesian teakwood, patchouli and amber
~ Pink Lemonade
~ Sweet Peony
~ Vanilla Hazelnut
~ Fresh Peaches
~ Mango & Papaya
~ Gardenia
~ Spearmint & Eucalyptus
~ Cucumbers & Melons
~ Strawberry
~ White Tea & Ginger
~ Honeysuckle
~ Butt Naked - a blend of apple, pear, melon, vanilla and musk.
~ Lavender & Mint - notes of pepper, crushed mint leaves and bergamot with notes of rose, lavender, vetiver, sandalwood and patchouli.
~ Coconut, Lime, & Verbena
~ Sweet Pea flowers
~ Oatmeal, Milk and Honey topped with oatmeal flakes
~ Sandalwood Patchouli
~ Vanilla Cake - vanilla cake with candied lemon zest and blueberries
~ Rosemary & Mint
~ Blue Hawaii - tropical fruits, sugared oranges, lemons and limes, with lightly exotic mountains greens. - SOLD OUT
~ Fruit Loops
~ Chestnuts & Brown Sugar
~ Unscented
MAKE YOUR SELECTION BY USING THE DROP DOWN ARROW
More scents coming soon! Looking for a scent that's not listed? Please contact us! We could have it in stock!
Some soaps are tinted a color to represent the scent
Due to the vanilla content in some fragrances, the soap may turn pink, tan or beige. This is normal and will not effect the performance at all.
Why is my jar not full?
Some of our products are whipped which allows air to incorporate into the product. We fill our jars by weight not volume therefore you will receive the product weight that's listed regardless of jar size.
Ingredients: See 'Ingredients' page
Directions:
Apply a small scoop of whipped soap onto a nylon poof or washcloth. Lather onto skin. Rinse with warm water. Can also be used directly on the skin as a shaving soap. Avoid contact with eyes and mouth.